I just learned a new Japanese folk tale from one of my student.
We ended up talking about Japanese and Philippines folk tale than
I don`t really like politics and so as her.
Taketori Monogatari Folk tale
(The Tale of the Bamboo Cutter )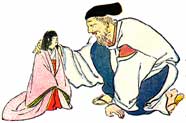 The interesting part of this story was when the princess gave the five princes a task. Then
She will agree to marry the prince who managed to bring her a specified item.
Here are the impossible items
The first was told to bring her the

stone begging bowl

of the Buddha from India.

The second was told to retrieve a

jeweled branch

from the island of Penglai.

The third was told to seek the

legendary robe

of the fire-rat of China.

The fourth must retrieve a

colored jewel

from a dragon`s neck.

The final prince was told to find the

cowrie

which was born from swallows.
If a guy wants to do everything for you just to get you
give him one of these impossible items. (haha...)